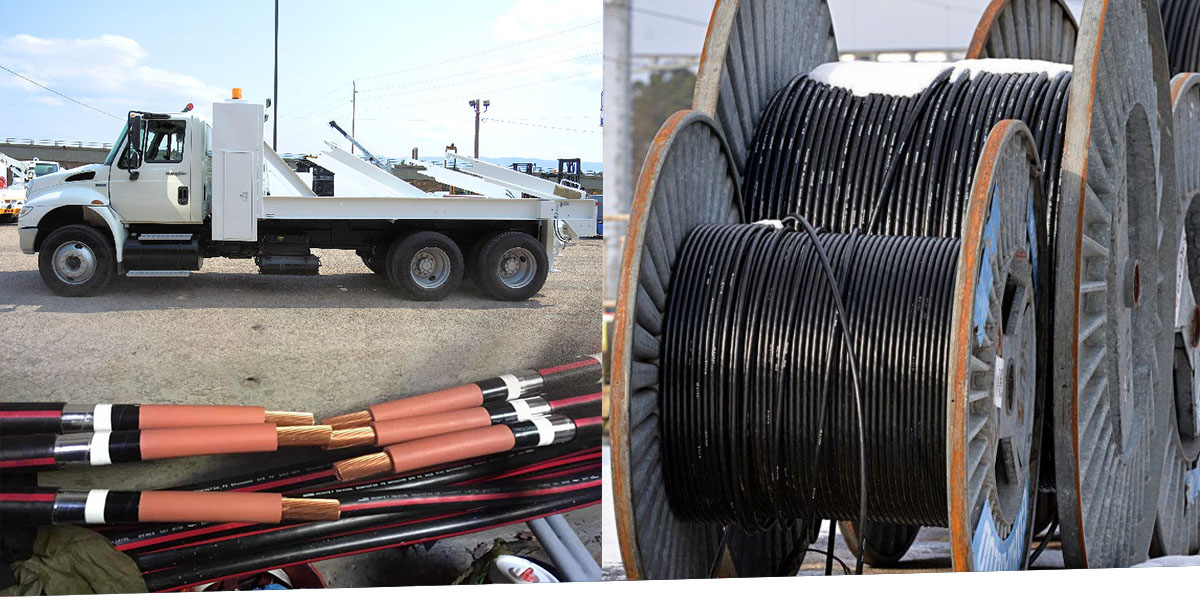 Many of our clients call us for simple projects like the installation of a utility pole for a temp service but many don't realize the wide array of services we can provide to the traditional electrical contractor. In addition to pole line construction and storm restoration services we can offer:

• High Voltage Cable installation and Splicing
• Hipotential Testing and Fault Locating
• Manhole Crabbing
• Difficult Cable Pulls
• Scrap Recovery (Cable Removals)
• Disaster Preparedness
• Value Engineering
• Design-Build and Design-Assist Projects
Resources:
We stock over 7 MILES overhead and underground cables, most of them pre-paralleled and loaded onto our powered reel carrier trucks ready for installation. Don't waste valuable time trying to explain to your supply house what cable you need when most times we can furnish and install it quicker than most suppliers can locate it. When a client has an outage, time is of the essence. 24/7 we are available to coordinate with your utility, dispatch crews and get your client back online faster than anyone. We also can provide your client with full forensic reports to help them get reimbursed by insurance.

Accordingly, we stock splice kits and terminations from 5kV to 35kV in sizes from #4 to 2500 MCM (that's not a misprint- 2500 MCM). We also stock several popular sizes of crab joints. Recent Con Edison changes have resulted in fewer sets of cables being able to be terminated to transformers, therefore, increasing the need for secondary crabbing boxes. Let us show you how to save thousands of dollars on these installations.
Knowledge:
Over 90% of the drawings we see today for site utility layouts are incorrect. Most engineers are not familiar with the ever-changing requirements of today's utilities and often do not have a layout from the utility prior to jobs being bid. Let us help you win jobs by presenting accurate budgetary estimates and instilling confidence with your client by using our experience and knowledge of these systems.
Equipment:
Our fleet of specialized equipment is more than just bucket trucks. Our cable installation rigs are capable of breaking loose old cables with over 20,000 lbs of breakout force. This can mean the difference between re-using an existing conduit or massive excavation costs. It also means thousands of dollars of recovered scrap copper, neatly rolled onto our special breakaway reels ready for delivery to the scrap yard.

Have multiple sets of conductors you need installed? By paralleling and combining cables onto large reels we can eliminate set up time and, in many cases, install miles of cable in one day. Our reel carrier trucks can accommodate reels as large as 10' in diameter and 16,000 lbs.

Need a utility pole but worried about rock? Our truck mounted, self-contained down the hole hammer can drill a 20" diameter hole, up to 11 feet deep in solid rock.